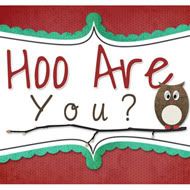 1. What are a couple of your favorite green foods?
Broccoli, Spinach, Romaine Lettuce
2. Do you decorate for St. Patrick's Day?
I didn't this year but, I want to next year
3. Do you have Irish in you?
Not sure :/
4. Do you celebrate St. Patrick's Day?
This is my first year with kids but I plan to do some special '

green things

' with their foods and of course wear green! I'm teaching them about the true story of St. Patrick and how he used the 3 leaf clover to explain the Trinity!
Im linking this up to Hoo Are you?
Pin It Now!