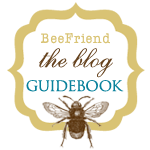 I recently came across this amazing website that is designed to help bloggers and those who read blogs. It's awesome news for me because it gives tips about blogging and its sweet for you because you can go there, select a category, and find tons of blogs you might want to add to your reading list.
On your lunch break or in between your kid's nap check them out. Simply click on the picture at the top and for future references I will be placing their button on the side of this site.
Some of the categories (they have tons) are:
Crafting, Domestic goodness, health and beauty, family and parenting, Food Cooking Baking, Home Organization and Tea and Tea Parties... now to figure which label I should put myself under!
Pin It Now!